Product image editing, as well as product photography, is usually done for advertising in catalogs, web pages or on billboards, and is very popular today. For this reason, the businesses that provide product image editing services are increasing in number every day, and it is quite problematic to make a choice fast.
For high-quality product photography retouching such actions must be performed:
Realistic Color Correction. Since product photography most often takes place in a studio using artificial light, some colors may not be reproduced correctly, be of a different shade, or appear lighter/darker than they actually are.
The buyer (if this is a picture for advertising purposes) should see the product as it is, so product photo editing should start with color correction.
Background Enhancement/Placing Product on the White Background. If the picture was taken on a plain background, most often it's white, then the background color should be uniform and clean, without any transitions and yellow tints.
While removing background from pictures, make sure the product is cut out carefully, without sharp transitions, so that the viewer has the impression that the background has always been like this.
Product Photo Retouching. No matter how hard the photographer tries to clean the product and touch it only with gloves on, small dust particles will still be noticeable upon a slight zoom.
Therefore, with product photo retouching services, it is important to remove such minor flaws along with the strong glares, if any. We must not forget about the shadows. They should always be present so that the picture looks realistic
1. FixThePhoto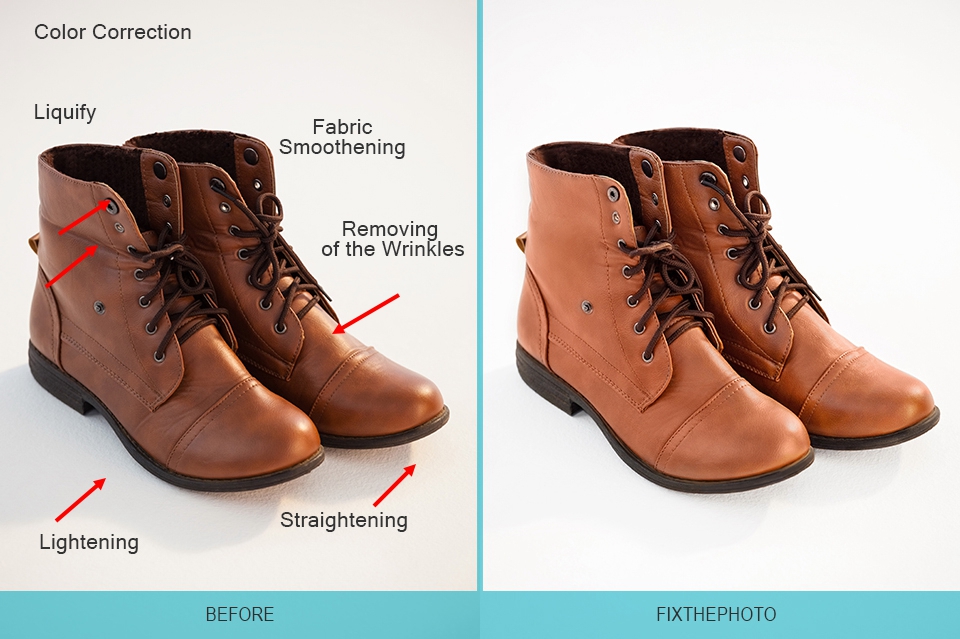 Fixthephoto product photo retouching service is currently the leader in many types of picture retouching services, ranging from portrait and wedding retouching to product, jewelry and even real estate image editing.
As for the product image editing services, I like their before/after examples of editing jewelry, food, and clothes. The level of image post-processing is really professional.
Considering my order, everything is perfect, there is a reason why they are in the first place. I like the way they've worked with color, not dimming the shoes in dark brown, but making them lighter.
The surprise for me was the slight work of Liquify tool on the bent corner of the boot. Obviously, it made things better. There is no point in talking about the cleaning of the background and small details, everything is perfect and realistic.
2. WeeditPhotos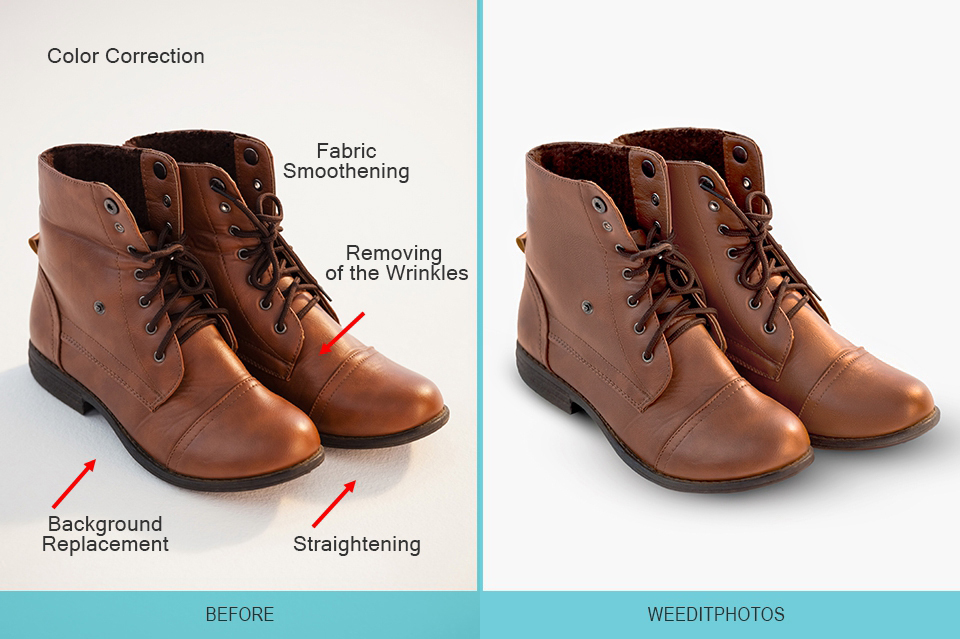 WeeditPhotos photo retouching service also deals with all kinds of orders, although it looks more like it only works with wedding image retouching. The only thing I didn't like was the lack of before/after examples in the portfolio, and there are no examples of product photography editing at all.
I learned that they were doing this type of image retouching only by asking their manager about it. According to their work, I didn't like the color correction too much, there is not enough color saturation, it's about 7 out of 10.
I like how the folds at the top of the shoes were removed, it looks very natural. The shadow is also drawn very skillfully. Great job!
3. WeddingRetouching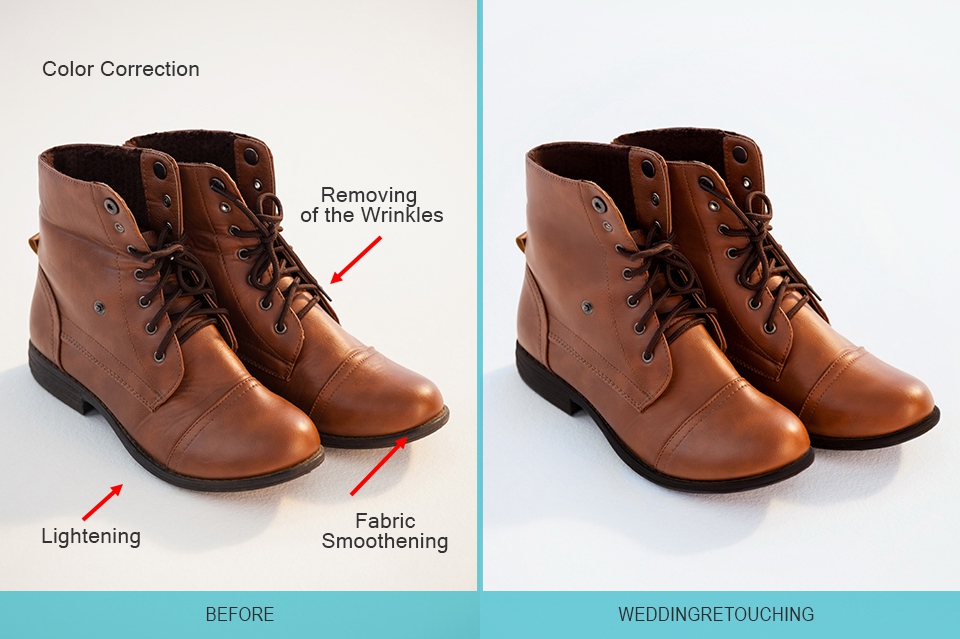 Yes, do not be surprised to see this WeddingRetouching photo editing service on the list. Many photographers I spoke with are regular customers of this service ordering product photo editing and clipping path. Some of them do not even work in wedding photography, and some simply sent them shots of rings or decorative elements and were impressed by the quality of their product retouching.
The service itself always accepts such orders. The quality of product image editing services is pretty good, but there are some flaws.
I didn't like the contrast and deep shadows. I want to brighten them up a bit. The work on minor flaws, like those creases, was done quite qualitatively.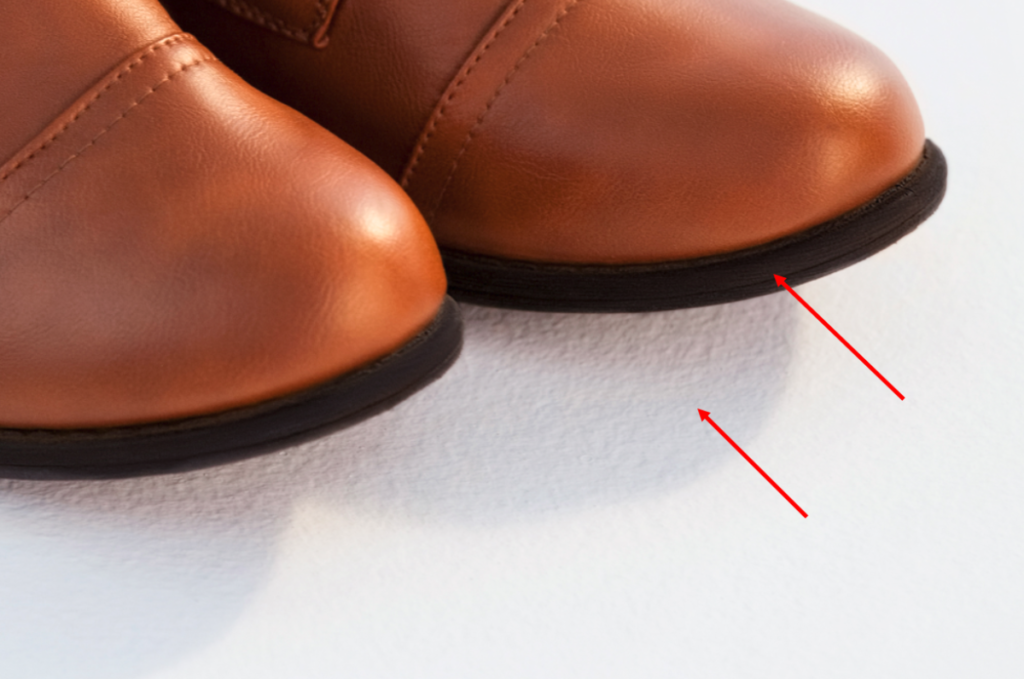 Blurry sole, very clear texture of the background in the shadow
I would like to highlight the insufficient work with the background under the sole, the texture is visible. Also, the sole is slightly blurry if you look closely.
4. HighendBeautyRetouching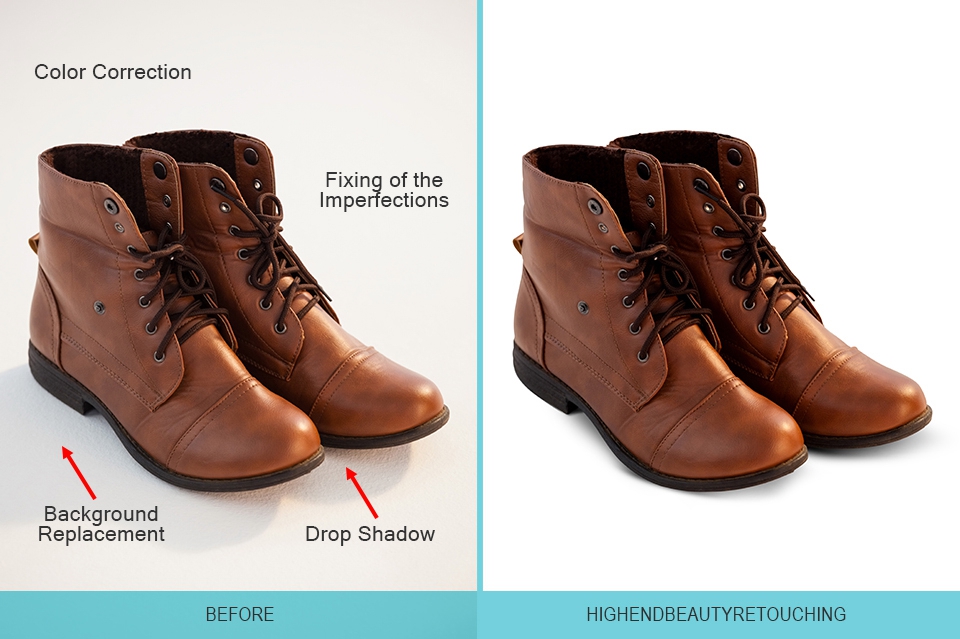 HighendBeautyRetouching service deals exclusively with professional High-End image retouching. I approached them a couple of years ago when I needed a very thorough skin airbrushing. I was surprised that such difficult work was done so quickly, but their prices are higher than competitors offer.
There are no examples of product photography retouching, but they do it. In reality, having received the order, firstly, I noticed too deep shadows. I like the color of the boots themselves, but I don't understand why they've made them so dark.
Also Check: Clipping World – eCommerce Image Editing
The background and shadows were edited well, the shoes look more voluminous. It is a pity that there has been no work with creases on the top of the shoes.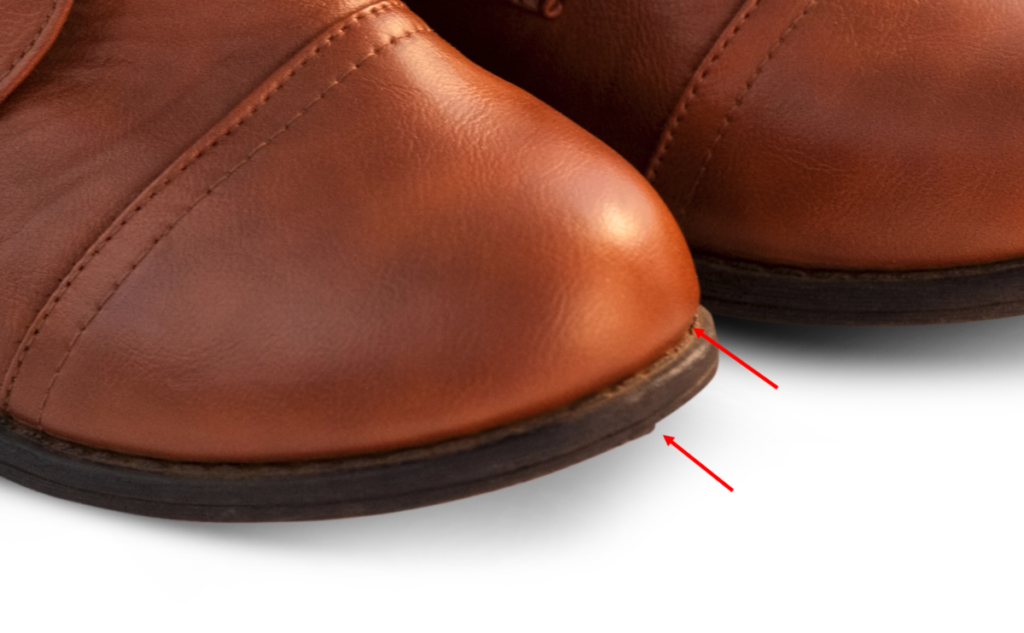 Defects were left on the sole, a messy edge between the background and the object
Among the obvious shortcomings that I saw only by zooming in, were the defects on the sole (glue at the junction). The unevenness of the sole should also be removed.
5. Pixelz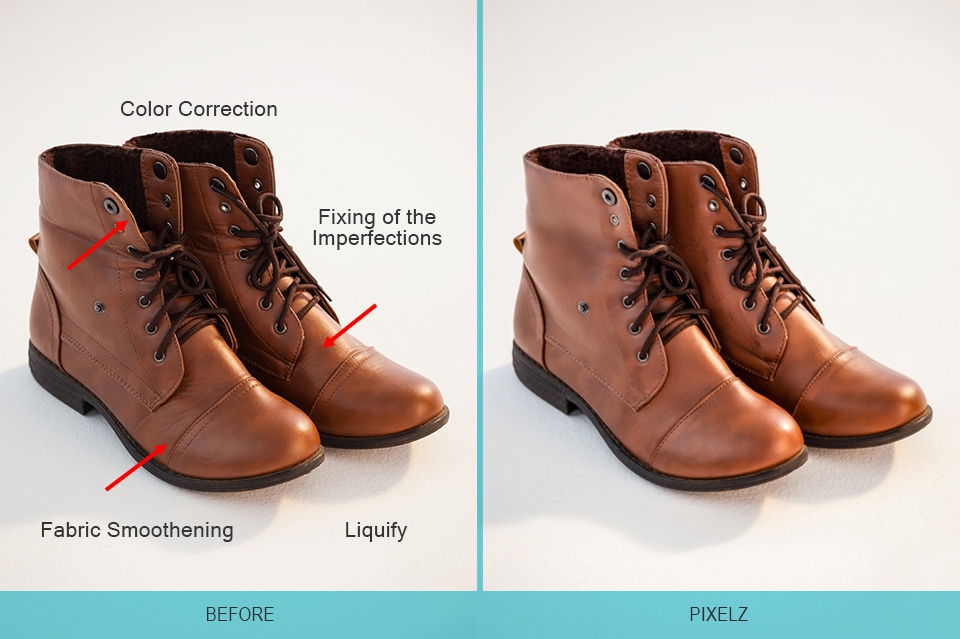 Pixelz specializes in everything related to goods – photography, image editing, sales. Right on the website, you can even purchase courses in all areas of working with goods.
You can also create a website to sell your products based on their engine. But what about the product image editing services? I am sure it requires the latest technology trends such as java, because the image will be processed through different levels of the editing process.
The shoe picture retouching was done at a decent level. You could see that they worked with color. Though now you can notice small spots on the leather.
The creases on the leather on top were removed and the leather texture was blurred. I was also pleasantly surprised by the upper part edited with the Liquify tool.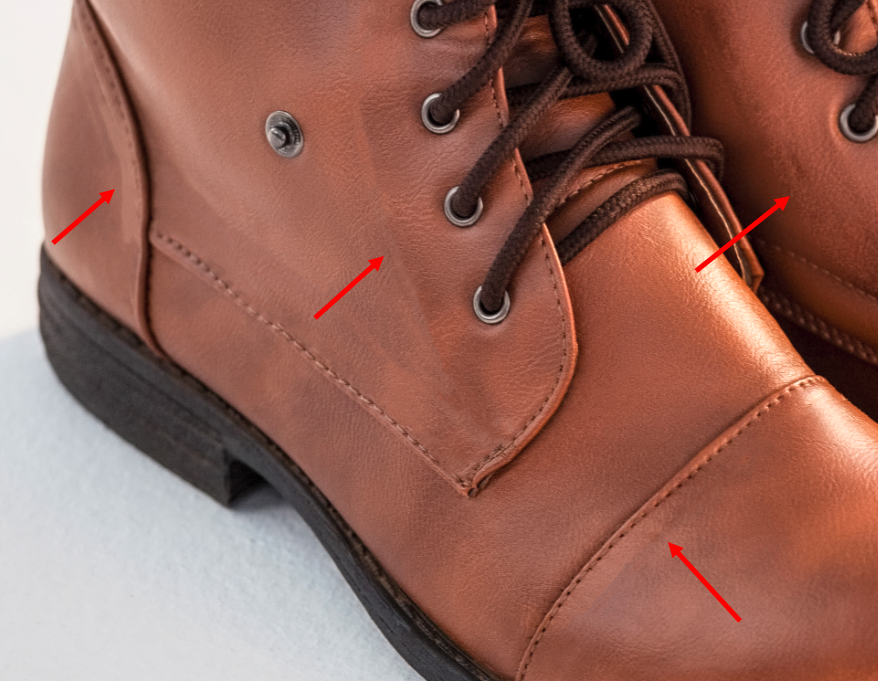 Shoe elements removed
Among the especially noticeable shortcomings, you can notice scratches that were revealed after the color was brightened.
6. Colorexpertsbd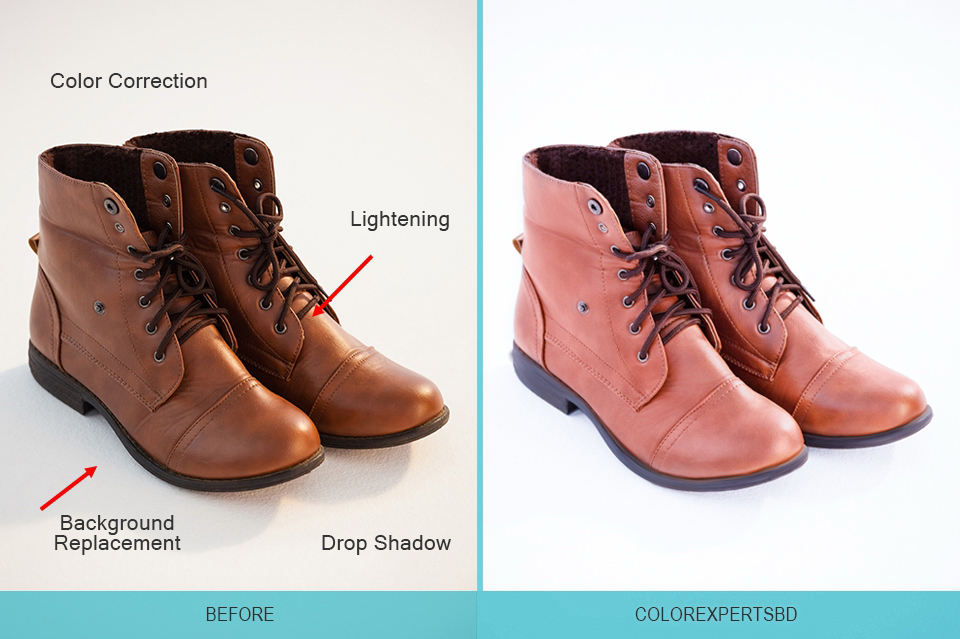 Colorexpertsbd is a rather strange service for editing product images. It occupies leading places on many lists. But once I visited their site, I wanted to leave it immediately, it was very difficult to use it.
They are engaged in all types of picture retouching, as well as services for creating vector drawings, maps, 3D modeling, 3d printing. Due to the rather complicated work of their website, placing an order only brings pain, and managers take a very long time to respond.
Having received my product photography editing results back, I checked whether everything is fine with my screen several times, as there was definitely something wrong with retouchers' monitor calibration.
The color of the boots turned from light brown into bright red. There were no shadows, they were removed, and Colorexpertsbd decided not to add new ones.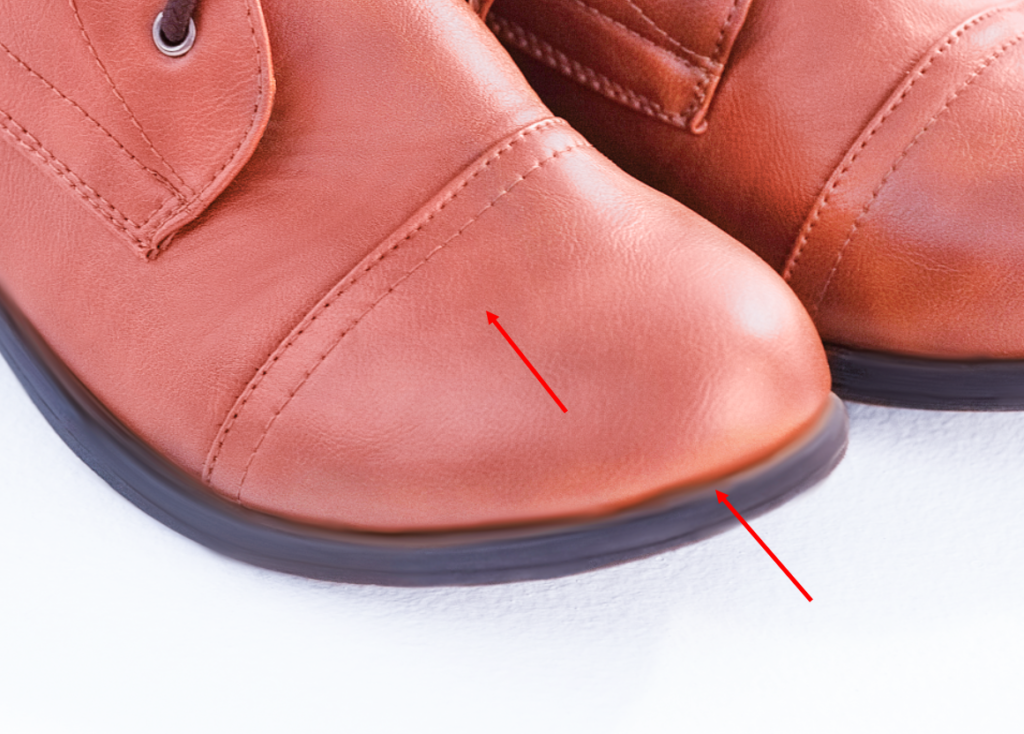 Blurred sole, poor color grading
When zooming in, you can see the washed-out sole, which appeared during the process of removing the flaws at the joints of the sole and leather.
7. Retouchgem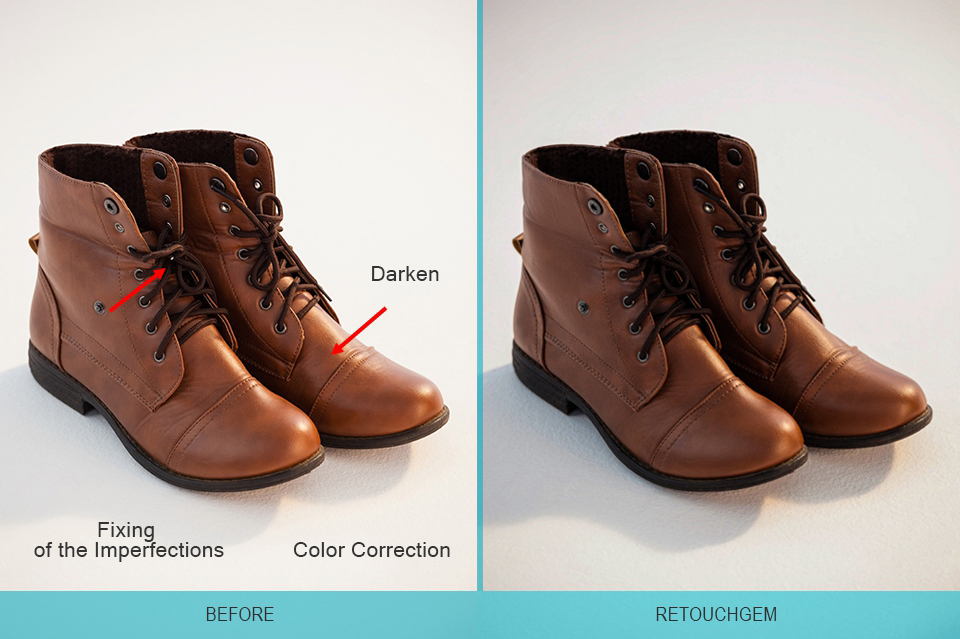 I do not know what problems Retouchgem has with the website, but it just stops working every two days. It was so annoying when, after I made the order and paid for services, the site crashed and stopped opening.
These guys are engaged in many types of image retouching, but mostly it is portrait or fashion retouching. At the time of writing, they did not have product photo editing.
Having finally received my order, I wanted to brighten my monitor as much as possible. That was because the exposure was reduced by one step, and the contrast was twisted to the maximum. I did not notice other changes besides these until I zoomed the picture.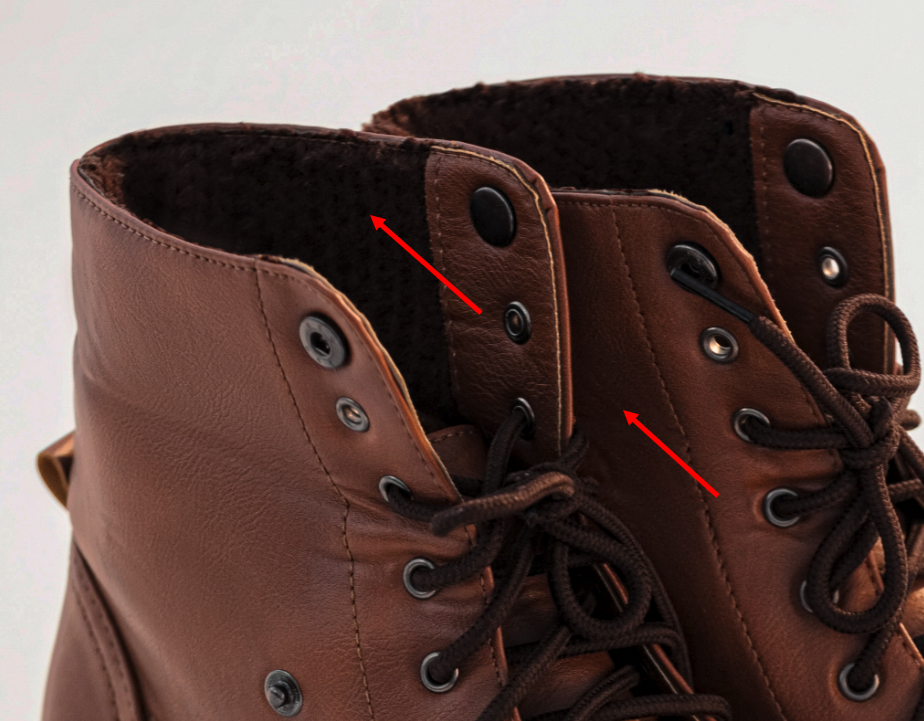 Dark image, loss of information in shadows
Taking a closer look, I've realized that I don't see any changes at all, except for poor color correction. Since the photo is dark, the information is completely lost in the shadows, now these are just black spots.
8. ClippingpathIndia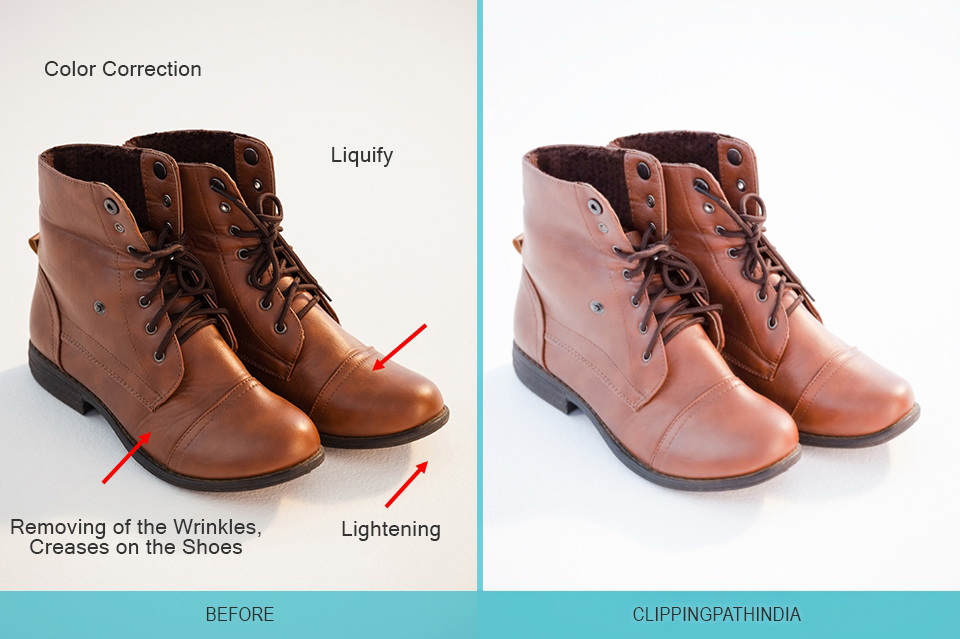 As the name implies, ClippingpathIndia service specializes in the fast cutting of items on a white background. I agree, it is a dubious specialization because, for most of the services, this is only a part of the main work.
It's funny that each part of the process is a separate task category: changing the background, color correction, working with shadows, picture retouching. That is, you can't just ask them for a high-quality job, you have to mention all the details concerning product image editing services you need.
As a result, these guys have the same problem as Colorexpertsd – terrible color correction. I am sure that the fault is the poor calibration of their monitors since I have everything in order.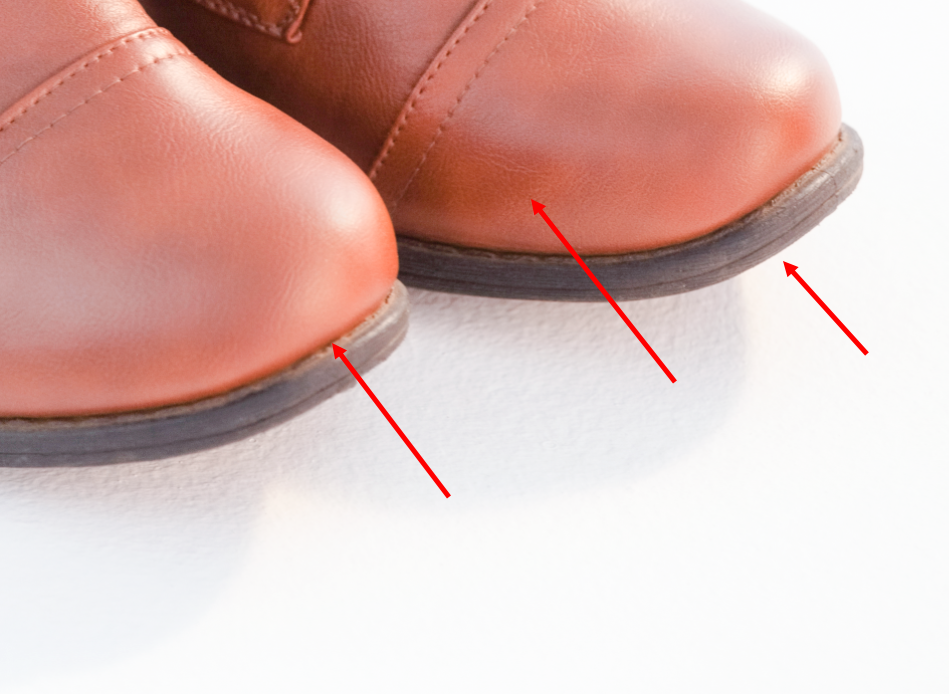 There are defects on the sole, careless use of the Liquify tool
I noticed that they wanted to edit the front of the shoe using the Liquify. I don't know why, everything was okay with it.
But now the toe of the shoe is unnaturally bent and became shorter. Plus, a poor work on the flaws at the junction of the leather and the sole is visible.
9. Digi5studios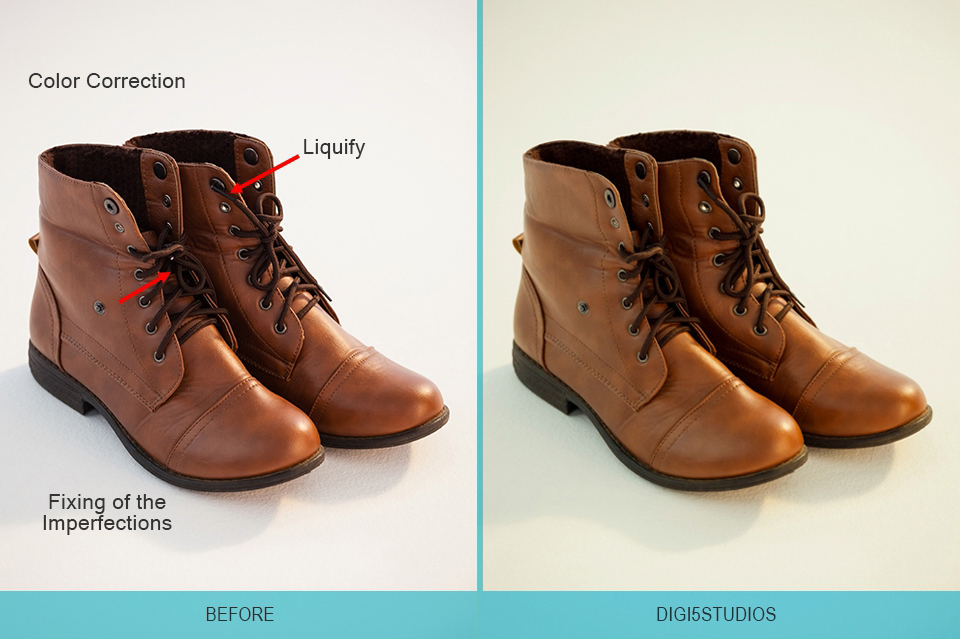 Digi5studios, which specializes exclusively in product photography retouching, is one of the most popular on all lists of services for product editing. You will believe that until you visit their site at least once.
They kept the old 2005-like design with low-resolution images. Before and after image examples are pretty good, but the abundance of different stickers and pop-ups throughout the site makes it very difficult to take them seriously.
You can send a test image to retouch at a cost of only $0.50, but I've decided to place a regular order straight away. Photos, after they are edited, can be described with one phrase "What's up with WB?".
The white balance is very bad now, it is too warm, that there is no trace of the white background.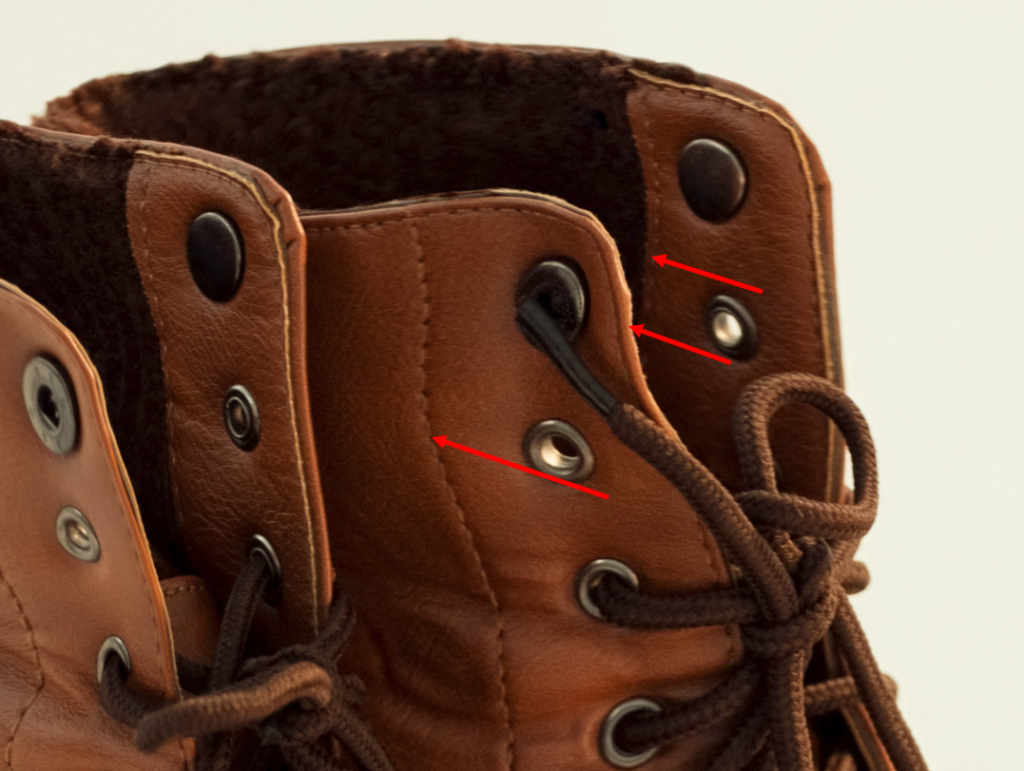 Improper use of the Liquify tool
If you look closely, you can understand that nothing but "color correction" was done, even minor flaws were not retouched. They edited the shoe top with the Liquify.
But due to careless and inexperienced use, distortion of shape can be noticed in unnecessary places.
10. CogentRetouch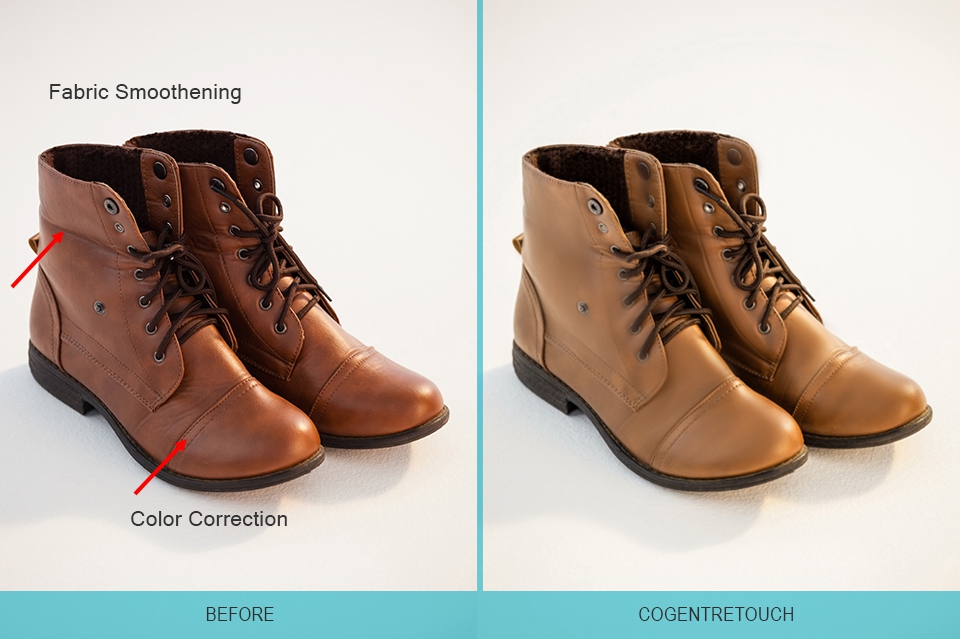 CogentRetouch is a funny service. When I go to their website, for some reason I don't believe that they are involved in photography, it looks more like a law firm. There are plenty of photo examples, but they are all of the small resolution with no zooming. That's why you may require an image resizer software before you use their services.
There are no prices for product photo retouching services either. Having placed the order, by the way, I got the finished work pretty quickly, on the next day. Every single thing is bad here. Starting with color correction, which for some reason went completely yellow, making the shoes pale orange, but definitely not yellow.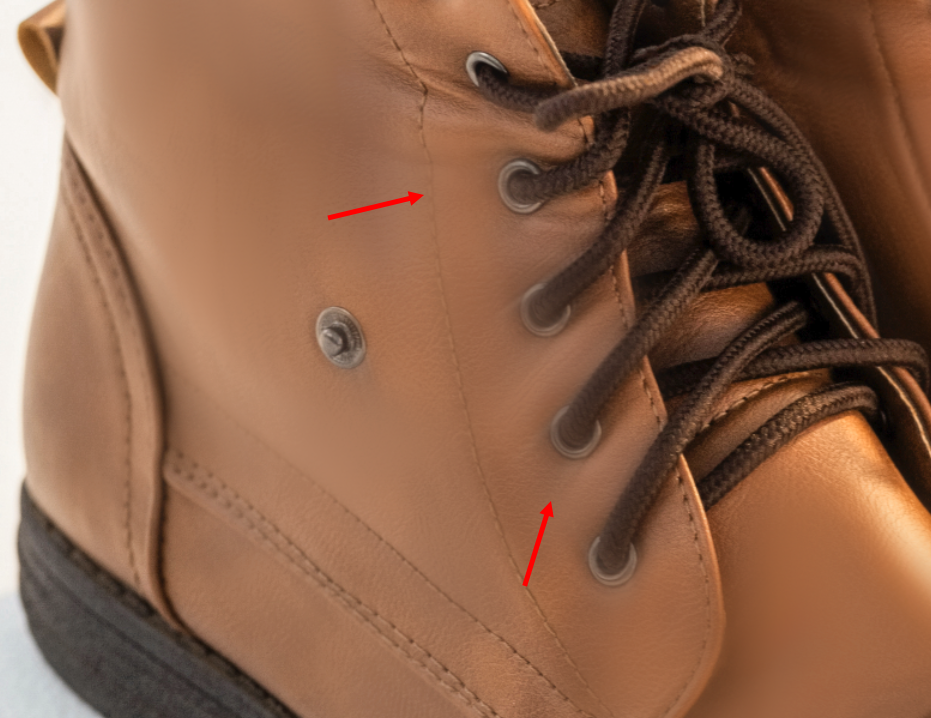 Unnecessary texture smoothing – too blurred elements on the object
They did a good job with the Liquify tool and minor image retouching. But the work with the background and shadows was completely ignored.
For some reason, the texture of the leather was smoothed out excessively and because of this, blurred out details appeared.
Last summer I had a photoshoot with one of my clients and I needed to provide him the deliverables by two days. These were 10 types of shoes and around 50 images. You know the drill when you have a lot of images and no time to waste.  As my regular editor was on vacation, so I needed to find someone fast.
So, I went to google and found a service called Dinamico Studio. It is a photo editing company operating for the last 6 years and based in the US. I quickly threw them a shoe retouching task using their free trial services. You can give two images and they do the work for free just so that you have a feel for their work. Then you can order.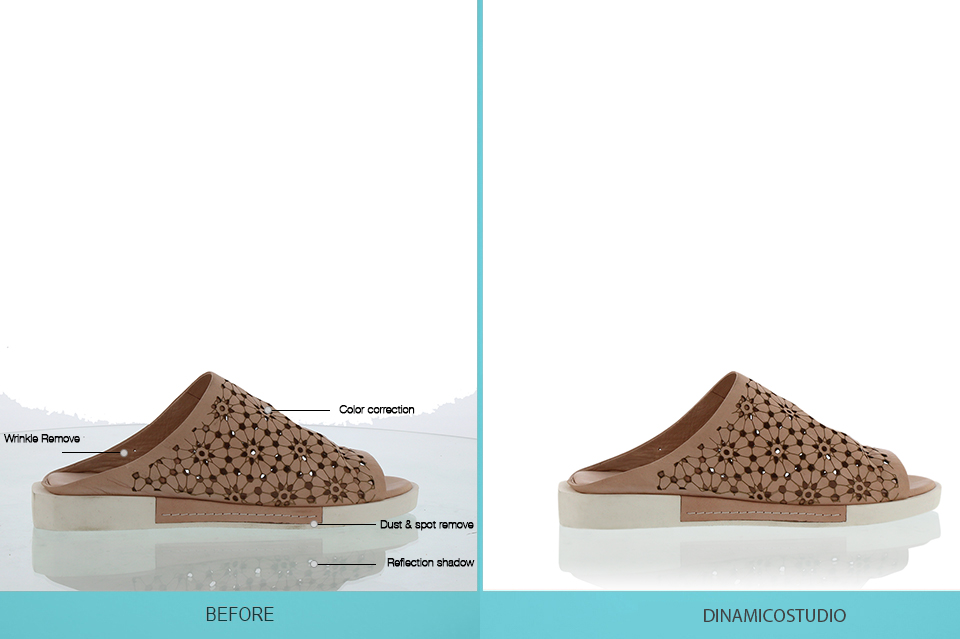 I was mind blown with their work as I know very little about them. They completed all the photo editing tasks flawlessly. Their clipping path services were pixel perfect for the shoes. They did not stop there. They also removed all the dust and spots from the images and got rid of wrinkles. Additionally, I requested color correction and natural shadow with reflection. 
To my surprise, they provided those services without any complaint. Their services were so good that I could not resist to assign them all my images. I was surprised there too. The costing per image is very low, $2/image and they provided the images within 12-20 hours. For me, that is a good enough service.
---
This is a Guest Post.