As a creative with a long career path in front, you probably already dream about optimizing your photography business or running a web design agency. But when you're tangled up in thinking long term, you may miss an important thing that you absolutely need right now to make that dream come true.
Portfolios are personal. Here are the most common mistakes all creatives can make when designing one.
Throwing in everything
Whether you're a photographer, an illustrator, or a UX designer, you probably have tons of work. The unfinished side projects, the cute street photos that never got around to post-production, the student works.
It's nice to have them to review your progress, but these kinds of works are far from the perfect portfolio material. Your portfolio should only contain the best of what you've got.
The thing about the portfolio is that it's not a numbers game. Few clients, employers, or universities would hunt for quantity. After all, everybody can take a lot of pictures. Very few people can take one quality photo after another consistently.
This rarity is why your portfolio could be fantastic if you just included ten photos or drawings and up to five UX projects. Focus on the quality instead of the quantity, and you should be able to impress anyone who sees your work.
No additional work
Since you're focusing on showcasing your best creations in the portfolio, it would be wise to produce something exclusively for the collection. Many creatives make a mistake and only show their current work.
You can take things a bit further and work on other creative projects to showcase. It may be hard for a photographer to come up with an experimental and bold work if all you do for a living is click wedding or event photos. If you want to really shine in your portfolio, you may need to experiment on your own.
The same goes for UX or UI designers who couldn't manage to be a part of a genuinely creative team that works on the best projects on the market. If that's your case, then you can pick a popular service and redesign it.
No context
While not every portfolio needs context, many do. Not including it would be a significant downside of your portfolio.
A photography student needs context to appeal to the reviewer. Mention the camera settings you used in the photos. This mention would show that you not only have the eye for a good shot but are also an expert on the technical side of things.
If you are a UX designer, logo designer, or otherwise involved in corporate-oriented design, you need to mention details. Talk about the company you've created designs for, what problems you faced, and how you reached the design that you ended up with.
That's crucial for letting your clients know how meticulously you approach their business problems.
Poor presentation
Many creatives think that a portfolio is your work alone. The truth is, it's not that simple. The way you present your work influences the way people respond to it.
The hard way is crafting a physical portfolio instead of a virtual one. It's not the best fit for everyone, but in some cases, it's necessary. If you're a photographer who offers photo books, having a portfolio that is in the form of a hardbound printed album may convince your clients to work with you.
If you're a book illustrator or a comic artist, holding a book with your works in it is priceless. You can show it during the interviews to let the employer see how your work looks like before someone puts it into digital form.
The same goes for student artists. Many universities require you to hand in a resume both in digital and in paper form. Experience with the way you present your works: put a couple of contrasting works on the same page, or put one great work in the center of the page to make it stand out.
The next option you have is to put your designs on a website like Behance or 500px. It's something every creative should do. These websites allow you to showcase a portfolio without creating a website.
What's more important, if your works are uniquely eye-catching, people will want them. A lot of likes on your design would act as social proof and show clients and employers why they should work with you.
These activities also give you more tools to experiment with the way you present your work.
The last option is to create your portfolio website. The best part about this is that you're in charge of how you present your portfolio. Tailor the design to your taste, and you'll be able to impress whoever visits your website.
You can also create multiple portfolios to show to different types of clients. Here's what multiple portfolios on a website made with Pixpa look like.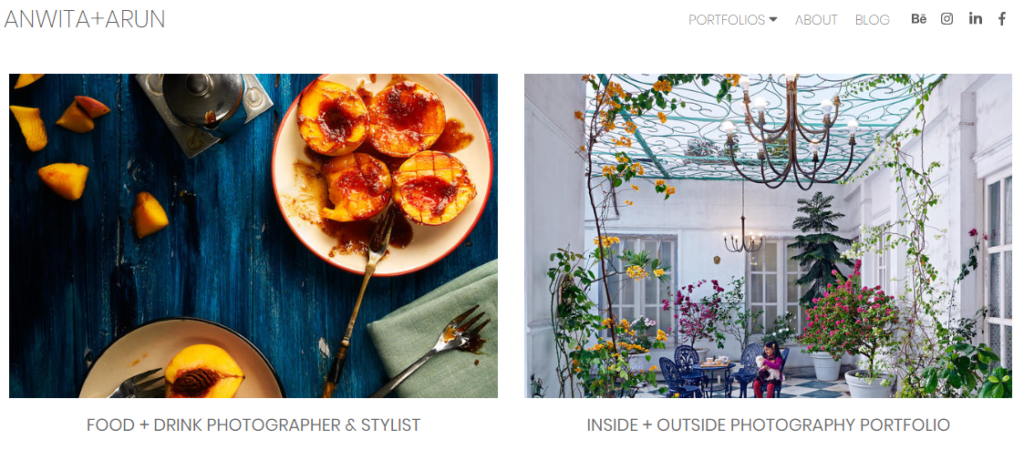 Source: Anwita + Arun
Creating a website is rather cheap nowadays. For the small price you pay, you'll be able to develop an authentic feel about your work that would get many clients hooked.
No contact information
Whether you're creating a portfolio website or showcasing one on Behance, you need to make sure that the contact information is easy to find. Otherwise, you'd be missing out on opportunities with people who want to work with you.
Mention at least one social media profile and your email address. If you've made a website that has a lot of visitors, you can consider adding live chat. Integrate a chatbot there, and you'll be able to talk to all people who approach you.
You can share your portfolio online for little to no money with the Facebook Messenger integration on the website.
Next to making it easy to contact you, you should also use photos to build trust, so your visitors know who they will be contacting. 
Wrap up
Avoid these five mistakes, and your portfolio will stand out. Don't litter your space with mediocre works. Consider creating something original just for the portfolio. Work on the presentation, and don't forget to include your contact information.
The most important thing you have to remember is to adjust each portfolio for the person who will be seeing it. 
---
Guest Post by Marie Fincher