Photography being a niche market very few people invest in creating products and services for these customers. As a photographer, it is easy to get saturated with the limited free or cheap resources you have to be it gadgets, software or add-ons or anything else. In a field as dynamic and everchanging as this, it is needed to keep up or your creations will soon begin to fade away.
In this race of always being at the top of your game and also managing your budget, how do you think you can get the best products and services without going broke?
Well, we are here to help you with just that!
Many online and offline companies and deal sites frequently announce sales, contests, and giveaways which are targetted towards building a loyal customer base and giving back to society.
A smart move that you can do is keep an eye out for the ongoing or forthcoming discounts, giveaways, contests, etc. and you can own it all at a price of peanuts! Read this article for info on other photography contests.
PhotoWhoa is here with a photography contest your consistency will help you win. This is simply a photography contest you cannot miss!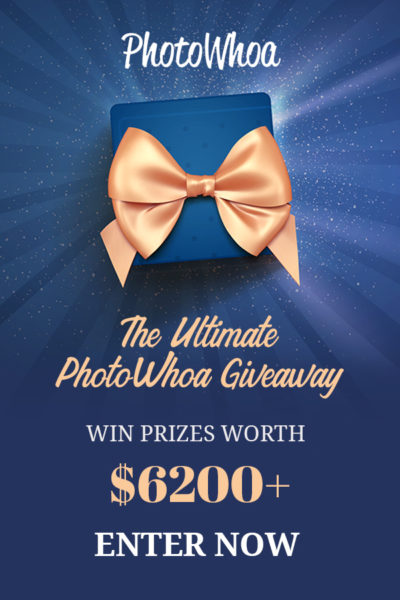 PhotoWhoa is all about creating a great community of photographers and this giveaway will definitely make you want to join the club. No tough rules, not much effort, just a great competitive spirit! The most transparent photography contest of them all. Earn points to win prizes!
Why is this a once in a lifetime contest? 
Because you get to win prizes worth $6200+! Yup, I know, that sum is even hard to read, but you could really be one of the winners. Not winner, winners. And that right there is the second reason you must not miss this – because there are 3 winners, you get more than one chance of putting your hands on a great collection of goodies for photographers. This includes amazing software, tutorials, gear, and Photoshop actions. Aren't you excited? I know I am jumping around with joy.
And that's not all! If $6200+ worth of prizes was not enough, PhotoWhoa offers contestants 50 more prizes. 50, guys! This means that 25 people will get a $20 gift card to use in-store and the other 25 will get a $50 gift card. Wow!
Let's go through the rules 
Now you might think to yourself, this sounds amazing but I'm not that good a photographer to be able to compete with professionals. So, you think of yourself as an amateur? Stop struggling! This contest was designed for both amateur and professional photographers and whether you believe it or not, they all have equal chances of winning. How's that? Let's see!
So, the first thing you have to do is take a deep breath and just enter. Where? Right here. All you have to type in is your name and email address. Ok, you also have to tick 2 boxes agreeing to the rules and to the fact that you are not a robot. Ta-dam! You're in!
Earn points. Earn points. Earn points
This is what this photography contest is all about. Earning points. Earn the most and you get to walk home with the prize. Or one of them, for that matter. There are different ways in which you can earn points and those are:
Go on, spread the word! Sharing this photography contest with friends will get you either 50 points/signup referral or 100 points/purchase referral. You can share via Email, Messenger, Twitter, Facebook, Pinterest, WhatsApp, and Telegram.

Do you feel like making a purchase? Are you searching for a specific course, overlay bundle, guides or presets? Make a purchase and every dollar spent will get you points!

Want to gain some more 50 points? Easy-peasy! All you have to do is share the contest on Facebook.

You are on Pinterest, right? I mean, which photographer isn't? Follow PhotoWhoa and bam! 30 more points!

Hey, #instagrammer! It's your turn! Following PhotoWhoa on Instagram will get you 20 points.

Tweet, tweet! This action will get you another 30 points and take you one step closer to the awesome prize.
So, what about those prizes? 
If you haven't entered yet you can spend another minute or two going through some of the prizes with me. The grand pack includes a 3,900+ Lightroom Presets Bundle [Worth $280] and a 3,100+ Portrait Photography Poses Cards Bundle [Worth $900]. This is just to get you started. Then we have an Instagram 101 For Photographers [Worth $59.99], which will help you get the best of this trending Social Platform.
Also Read: Click Here to check out Top 10 Best DSLR Cameras
If you are an artist at heart, you will just love this one – 101 T-shirt Design Bundle for Photographers [Worth $199] and this one – The Atmosphere Bundle Of 23 Cool Photoshop Effects [Worth $75]. These are just some examples, the list is so much more expansive (and also expensive, haha!).
Don't forget about the gifts!
This photography contest aims at satisfying as many photographers as possible. So, if you do not count yourself through the 3 winners, don't be sad! You might get one of the 50 prizes.
Collect 500 Points and you might be one of the 25 people who get a $20 gift card to use in-store

Collect 1,000 Points and you might be one of the 25 people who get a $50 gift card to spend in-store
Along with this, there is another giveaway, you should look it up too! I know you already entered this one! But what are you waiting for? Go back there, start collecting points and win yourself some great prizes! Best of luck!